In my recent blog post, How to Keep a Relatively Tidy Home, I talked about everything having a "place" and that sometimes you have to create that place. There's several ways you can do this. And if you happen to follow The Home Edit or just stroll through The Container Store, you'll realize how incredibly expensive it can get to have a beautifully organized home.
Believe me, if I could do what The Home Edit does to my own house, I would, but I'd rather not spend a ridiculous amount of money on clear plastic containers. And to be honest, I think all of the color coding and excessive labeling is a little unnecessary.
So, I'm here to let you know how I organize and declutter in a more practical way.
First of all, let me tell you the main places to find some inexpensive organization tools…
So, those are the places you can shop to find your equipment to get your home more organized and give each item a "place." Now, my home is far from perfect and I am no organization expert, but here are some ways that I have organized my own space. And please remember, that this all came with time, and I am constantly adding or redoing.
1 – Cubbies
I love me some cubby shelves. They are so versatile. The shelf in my picture came from Target. It's one of their less expensive options, but they have lots to choose from. I bought this for our old living room several years ago. I used to keep a couple storage cubes with random stuff in them and the rest of it was photo albums and decor.
Now, it's in Lily's room with toys in the cubes. The cubes came from Walmart, they were on clearance after back-to-school season. They're actually fuzzy, which is perfect for Lily since she loves all things fuzzy! Walmart has lots of other styles of storage cubes at a good price!
2 – Drawer Dividers
Nothing is worse than a drawer with a bunch of stuff floating around that you have to dig through. The very obvious place to use a drawer divider is your silverware drawer. Start by getting a silverware tray like this one…
They are pretty inexpensive almost everywhere. This one from Amazon is only $8.00. Then, if you have more room on the sides of your drawer… get some of these longer baskets to keep extra utensils in.
I put extra knives, serving utensils, and baby silverware in these. If you get them from Dollar Tree, they come in a pack of 3 for $1. They're not the best quality, but they work perfectly for just sitting in a drawer.
I also use these same baskets, plus the rectangular ones they sell in places like bathroom drawers, nursery drawers, and junk drawers. The long ones work great for tooth brushes and pens!
I have also found some better quality drawer organizers at T.J. Maxx and Walmart.
3 – Decorative Containers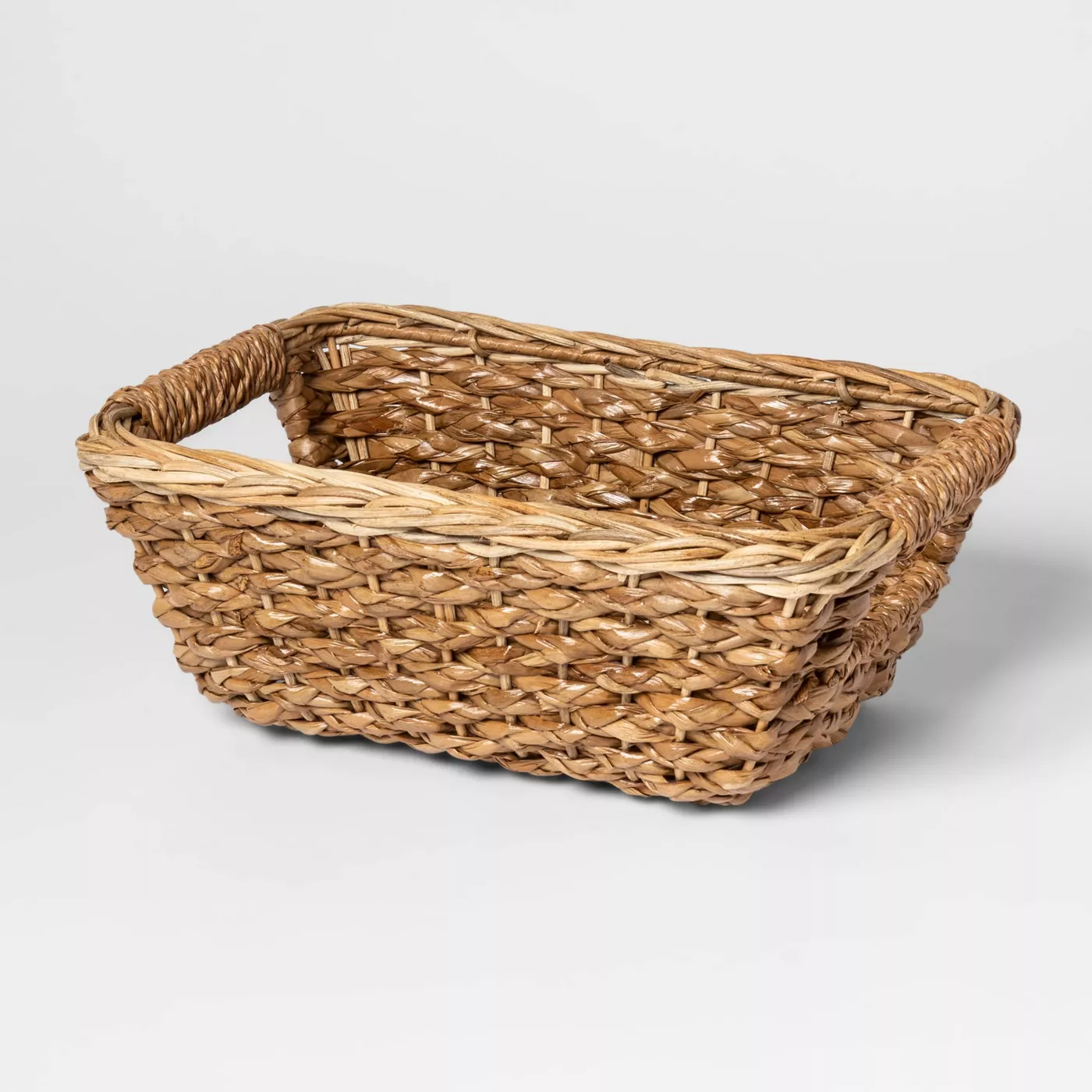 Sometimes, there just isn't enough room in your drawers and cabinets for all of your stuff. You can create places for your things in ways that fit in with your home decor. You might have to pay a bit more for pretty baskets, but you can usually find some good deals at places like Target, Walmart, and T.J.Maxx/Homegoods.
In my living room, I have some built-in shelves with a couple of tin buckets, a wooden box, a wicker basket, and some pottery pieces. Nobody would even know that I keep extension cords in one of the buckets, charging cords in another bucket, loose change in the pottery pieces, and various junk in the basket and box.
You can do this anywhere in your house and it doesn't have to be just nice looking baskets. There's a ton of ways to organize in a decorative way… you can always use some good ol' Pinterest inspiration!
4 – Toy Storage
Speaking of decorative storage… you definitely do not have to get super cutesy kid-like toy boxes for places like your living room. I purchased this storage ottoman from Amazon when Lily's toys started to venture further than her bedroom. It's a great way to hide her toys!
We also have various nice looking totes/baskets for her toys that can be easily carried from room to room. It keeps her toys contained and makes it easier for cleanup. There's lots of great ways to hide toys in a way that doesn't scream, "We have kids!" when people come to visit.
5 – Hooks
Hooks are a super easy way to minimize clutter without breaking the budget. You can put hooks almost everywhere, and a single hook in a tight space can go a long way.
A key rail like this one by the door is a perfect place to keep keys so they can never get lost. We also have a rail of hooks in our garage for dog leashes and jackets. We have hooks on the backs of doors and in closets for hanging towels, bags, jackets, robes, etc. We even put a couple hooks in the laundry room for hanging clothes that can't go in the dryer.
Then there's hooks for various equipment. We have a garden tool holder like this one…
It's perfect for holding all of the outdoor tools in our garage. Then, we have hooks like these…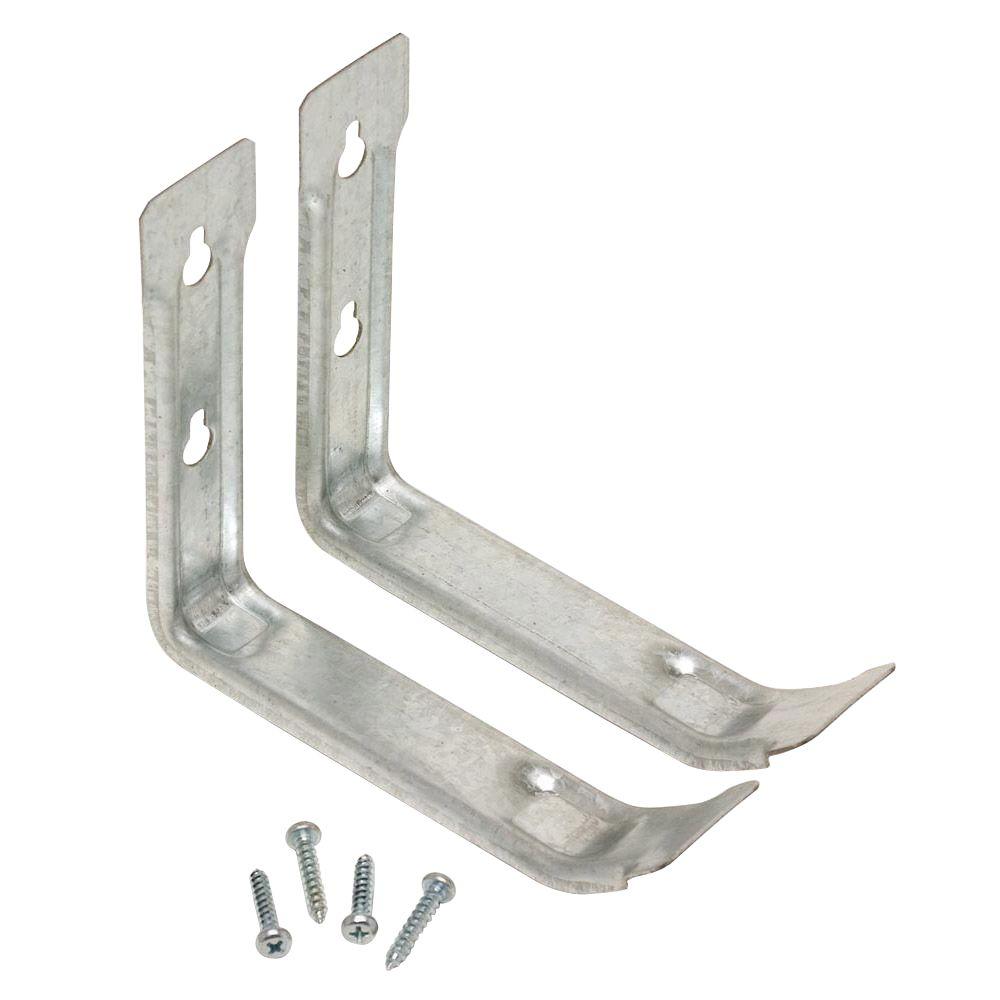 These are also great for the garage to hold hoses, strollers, and other yard equipment. Along with these, we use simple nails and screws to hold lighter items up off the ground. All of these, plus some shelves has kept our garage organized and clutter-free.
6 – Shelves
Shelving is great for storage… everyone knows that. The obvious place for storage shelves like the ones above is a storage room or garage. These particular ones are great if you don't want to spend too much, plus they simply snap together. Menards is always a good place for inexpensive storage solutions.
Along with a whole shelving unit, you can also get a simple shelf board like this…
Which come in all different sizes and colors at Menards. Then, pick some brackets like these…
These shelves are great because they're cheap, easy to install, customizable, and look pretty good! We've used them in the office, bedroom, and laundry room. Add a basket or something to store smaller items in. It's such an easy way to get things up and decluttered.
7 – Plastic Drawers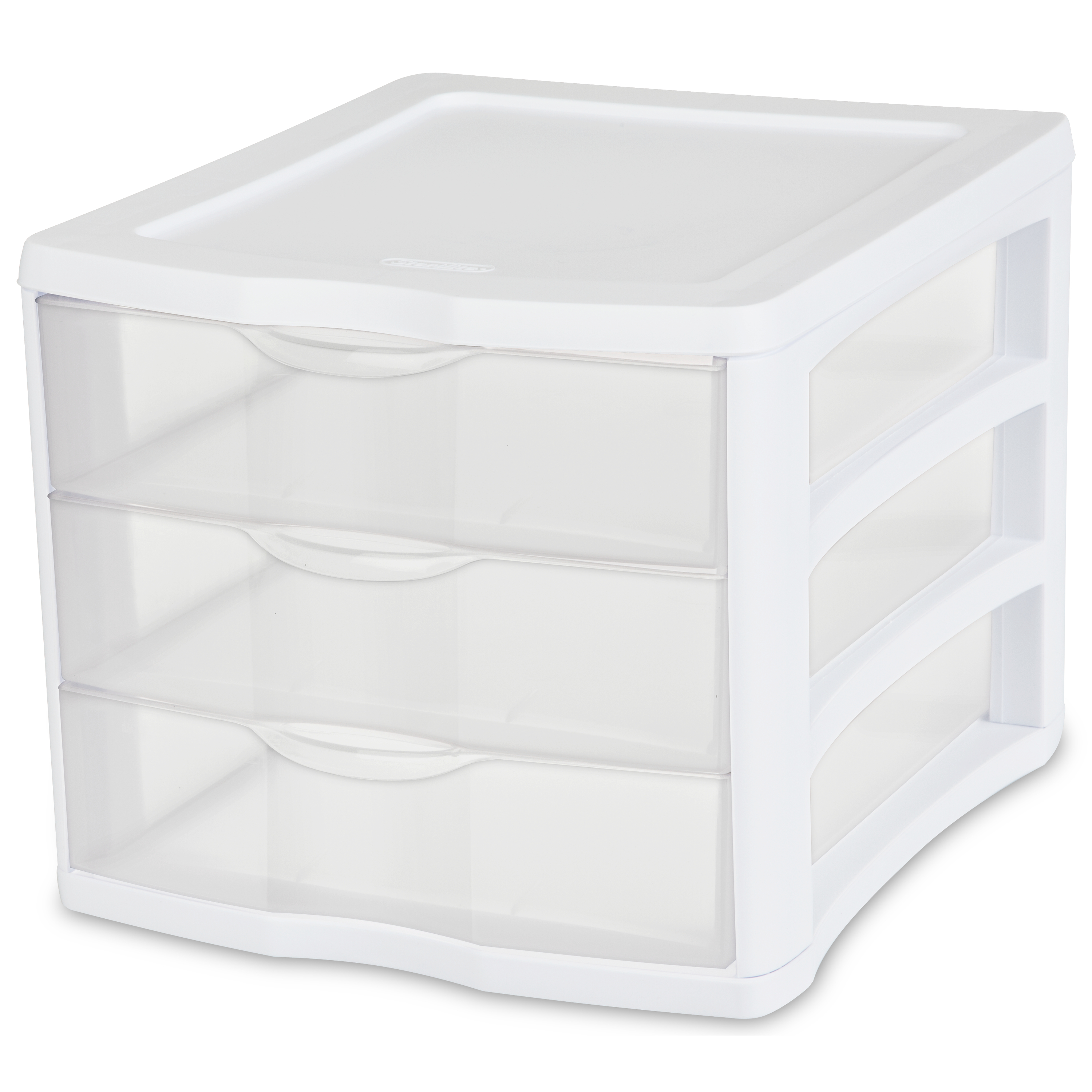 Plastic drawers like these are great for all sorts of things and they can go anywhere. They don't look the best, so I usually try to hide them within closets/cabinets, but it's a fairly inexpensive way to organize things in a convenient way.
We use a smaller one to organize medicines and such. Then, I used a smaller one to keep all of my nursing/other baby equipment in when Lily was a newborn. I even have a really small one for some of my cosmetics.
We have some larger plastic drawers in our closet for seasonal clothing. We also have a couple medium sized ones for tools, etc. in our garage and storage room.
---
Some Other Organizing Tips…
Reuse the bags that sheets, blankets, etc. come in to store your bedding and keep everything fresh.
Then use bins/baskets (I use these from Target) to separate and organize items in your linen closet/cabinets.
Use wall mounted baskets like these from Target in smaller spaces like bathrooms, pantries, and laundry rooms to store small items that you don't have room for.
Get an awesome spice rack like this one.. we love ours!
Fold clothing/other items smaller or roll them then put them in your drawers/shelves in a way that you can better see them all. (This is something I learned from Marie Kondo, although I don't fold things exactly like her.)
Hangers can be used for more than just clothes… use them to hang up bags, scarves, belts, ties, etc. in your closets.
Use fishing tackle boxes like these to store smaller items. We use one for all the miscellaneous cords we have.
Once again, I'm definitely not the queen of organization and my house is nowhere near most of the super tidy homes you see on Pinterest and such. But, I like to keep everything relatively tidy and I hope this more practical approach can assist you in making your home slightly more organized without going crazy and buying every expensive container and color coding everything.
---
If you liked this blog post, press like below! And if you want to share it with others, click the social media links below. And I would love to hear back from you… feel free to leave a comment!
Like any of the products I mentioned? Please purchase them via the links provided.
Want to be the first to know when I post a new blog post? Subscribe by entering your email at the bottom of the Home Page.
Your support is very appreciated!